02-12-2016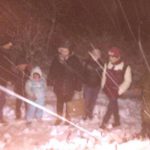 In the course of operative-searching actions conducted by the Subdivisions of Western and Southern Regional Department of State Border Guard Service and representatives of National Police in Lviv region, a group of illegal migrant from Syria and one of the organizers were detained during their trip over the border. Border guards received information about possible movement of illegal migrants through the state border and probable direction of their "trip", in consequence of which the border was reinforced by means of border details. At about midnight, the border guards of BS "Krakovets" detected 6 persons – man, woman and their four children. The group of illegal migrants intended to reach neighboring Poland on foot at night regardless of snowfall and cold weather, they were apprehended 200 m before the border. The violators were the family from Syria, the youngest child was only four years old. The citizens were delivered immediately to Border Subdivision as children and adults had frozen enough. The border guards provided the night travelers with warm conditions, hot food and drinks. Detainees did not have documents.
Further on, the organizer of their illegal trip was detained in Lviv by the law enforcers, who being regardless of the cold weather conditions was ready neglect the Syrians' life.
Materials on administrative infringement were drafted on the case in accordance with the Part 2 Article 204-1 of Administrative Infringements Code of Ukraine "Illegal cross or attempt to cross the state border of Ukraine". so far, investigation actions are performed as to other members of criminal grouping, who may be involved in smuggling migrants over the border.
Source:http://dpsu.gov.ua/ua/news/prikordonniki-zatrimali-6-gromadyan-sirii-ta-organizatora-ih-nezakonnoi-mandrivki/