03-12-2016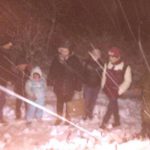 The staff of BS "Kosyno" detained one unfamiliar person, while he was attempting to get over the barrage fence. Reaction group arrived to the place immediately and commenced the actions on searching the locality and non-admission of unlawful activity. As a result, the detail detected and detained four men in some minutes in the distance of 90 m before the state border, later on – one more violator. It was established that all six men were traveled by one group, and noticing the light of the torches approached in their direction they took a run in different direction in order to increase chances of illegal border crossing. The foreigners did not have any documents, just introducing themselves to be the citizens of Iraq, two – from India and one – from Syria. Also, the violators reported about their aim to improve their life conditions in one of the countries of European Union.
It will be marked that often the cases are registered, when big groups of illegal migrants are separated to small subgroups and simultaneously attempt to get over Ukrainian state border.
Besides, it is worth to mention that the organizers of illegal migration channels constantly expose migrants' life to risk. As, regardless of weather conditions, for the sake of profit, they continue sending groups, among which there are children, through the border, who got frozen repeatedly.
Source:http://dpsu.gov.ua/ua/news/na-zakarpatti-prikordonniki-zatrimali-6-nezakonnih-migrantiv-yaki-probiralisya-v-ugorshchinu-/