08-01-2017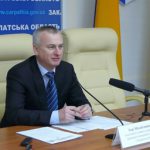 Since the passports of citizen of Ukraine have started to be issued in the form of ID-card it was prepared for 9.5 ths Transcarpathians. Passports for travelling abroad were received by more than 103.5 thousand countrymen, which is greater for 20 000 in comparison with the last year. This growth was accomplished by opening of new working stations on biometrical documents execution.
Nowadays, all districts, except Perechyn one, may prepare biometric passport for travelling abroad as well as ID-card.
There were considerations of 227 applications on Ukrainian citizenship granting and 888 departures for permanent place of residence in the far abroad. Hungary, Czech Republic, the USA and Israel are the most popular emigration places for Transcarpathian residents. Besides, 119 our fellow citizens returned home from abroad. At the same time, 1148 foreigners are registered in the Head Department with documented residence permit. The majority of them stays within the territory of Transcarpathia in connection with employment at the enterprises of the area and work in the religious organizations. 2460 immigrants live in the region permanently.