07-03-2017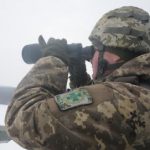 Law enforcers detained an African at the Ukrainian-Polish border, who aimed to reach the Western Europe in illegal way.
When checking public regular bus at the check point "Uzhok", located at the border of Lviv and Transcarpathian regions, the border guards of BD "Syanky", Mostyskyi Detachment detained a Moroccan having no any documents. Documents were drafted  as to the citizen's administrative infringement on violation of border regime. Moreover, it turned out that the African had stayed  in Ukraine for a long time, documents, identifying his personality were lost, and he made his way to Uzhgorod to try crossing the illegally the state borderof Ukraine and thus reaching the Western Europe. All previous explanations that he was a student of one of the Ukrainian universities of Ukraine had not been confirmed, but the actions of the detainee were established as an administrative offense under the Article 204-1 CAO "Illegal cross or attempt to illegally cross the state border of Ukraine."
Moroccan is currently detained in administrative order for his identification, decision on the case will be made by the court.
Source:http://dpsu.gov.ua/ua/news/na-uzhockomu-perevali-prikordonniki-zatrimali-marokkancya/