10-04-2017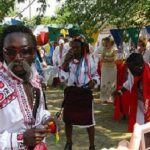 Recently, Transcarpathian region has been settled by natives of India and Bangladesh, and Turks populate Lvov. The foreigners managed to rise costs of residence lease in the capital of Galychyna, and Italian bridegrooms accustom Ukrainians to their wine and pasta.
Indians sell spices in Transcarpathia  
A lot of representatives of India and Bangladesh have appeared on the streets of Uzhgorod in recent years. "Mainly, these are students, children of wealthy Indians and Bangladeshis. They study at the Medical Institute, which moved to us from Donbass and rent accommodation"- it was reported by Yaroslav Galas, speaker of Transcarpathian State Administration.
According to his words, there are no special problems with them: "We had only one incident for all this time: local persons of doubtful reputation had contact with two Indian students, who were robbed them and killed by them. In general, the conflicts are absent. The students are often visited by the relatives, some of them are also settled in Transcarpathia, opening their own small businesses. For example, in the sphere of fabrics or spices production.
Turks increased prices in Lvov
Associations of Real Estate Specialists of Ukraine (ARESU) reports that Turks have been recently started to populate actively Lviv. "The Turkish diaspora itself consists of 1200 persons. These are those who constantly live and work here – they have opened their own business, or they cooperate with a major road repair company. In addition, there is a cheap flight Istanbul – Lviv, and on weekends young Turks come here for entertainment. Many apply for rental housing, namely businessmen, who look for a long-term lease choosing expensive options. They do not want to buy apartments in Lviv yet, because the prices are 30-40% higher than in Antalya" – said Andrey Borisov, the representative of ASNU Lviv branch.
According to his words, Turks in Lviv open fast food, restaurants, sell clothes and shoes. Lviv realtor Larisa Kovacs also confirms that over the past year Turks have been able to raise rental prices by 5-10%.
"All this is due to the fact that Turkish businessmen are interested in expensive real estate and they are ready to rent good refitted apartments with appliances, preferably in the city center and for a long time – a year or two. As for the daily rent, Turkish youth comes here to hang out at night in the nightclubs. Turkish guys are attracted by our girls and alcohol, because of this, in the weekend they rent housing in the center, which is always more expensive by 5-10%, "- confirmed Larisa Kovacs.
Zhytomyr is settled by Hasidim
Hasidim have also influenced the real estate market in Zhytomyr. "I ignore the real estate in Zhytomyr as I have not been able to sell it for several years for a decent price. And here I notice the prices growing sharply. The realtor says that now Hasidim are actively interested by Zhytomyr. They have already occupied Uman, now they get over here" — the local resident, Andrey Kovalyov, says.
The same situation is in Berdichev where Itzhak burried — the grandfather of a tsadik of Nakhman buried in Umani. "The streets are still not renamed into Yiddish, but there is time for everything. Naturally, real estate prices have grown a little, but not sufficiently. So, for 5%, no more" — the local realtor Boris Valeev says.
Italians reside close to Chernovtsy
Vietnamese have been living in Odessa for a long time. Life of diaspora turns generally around "the 7th kilometer" where they hold outlets. For the same reason the security officers periodically arrange raids as to the Vietnamese quarters. Odessa, Kharkiv and Kiev have also been chosen by Chinese. "Generally, students and businessmen arrive. The first learn languages, culture, and to the second Ukraine is attractive in the investment plan. People treat us kindly, it is better, than before" — the business development manager of Chinese Diaspora in Ukraine LLC, Hou Bin has told us.
And Chernivtsi region is pleased by Italians. It is said about the settlement of Beregomet village — Italians open restaurants here or are engaged in construction business. It is also noted that Italians coming to Beregomet eat and drink only that they bring from the homeland: the spaghetti, cheeses and wine, accustoming to these products also local residents.
Regardless of quite numerical diaspora for the settlement, the Village Council tells that there is no any community there. "We have just many persons departing for earnings to Italy, and they come back from there already with elderly grooms. If  our rural inhabitants are aged 50-55 , then to the Italian guys are 70. Usually they come to us in winter, and return to their country in spring" — told the deputy head of the Village Council.