01-05-2017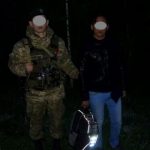 The members of Public Formations and local residents of border areas assist border guards greatly.  More than once, the inhabitants of border villages helped border details in detecting illegal migrants.
The local of the village Novoselytsya close to Ukrainian-Slovakian border was returning back home at night being stopped by unfamiliar person of Asian appearance. The foreigners asked to take him to Slovakian border for monetary award. However, understanding his actual intentions of its "passenger", conscious resident of border area took him not the state border and to Border Department "Novoselytsya". Then, the border guards took the foreigner to the Department, established that illegal migrant, according to his words – citizen of Vietnam, really attempted to cross the border in the search of better destiny in Slovakia.
Currently, detainee is delivered to Temporary Detention Facility of Chop Border Detachment to identify personality and clarify all circumstances of the infringement. Upon that, his case will be passed to the court.
Source:http://dpsu.gov.ua/ua/news/misceviy-zhitel-dopomig-prikordonnikam-na-zakarpatti-zatrimati-nelegala-iz-vtnamu/