26-07-2017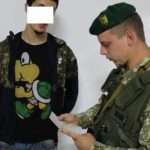 The staff of State Border Guard Service detained a citizen of Morocco for attempt to cross illegally the state border nearby Ukrainian-Polish border.
Information about appearance of unknown person in the border area was  provided from the local inhabitant. the local inhabitant.
During information verification the border guards of BD "Varyazh", Lviv Detachment, detained the citizen of Morocco close to the border, who intended to get illegally to EU.
Detained foreigner was delivered to the sub-department in order to clarify the circumstances of the offence and drawing up administrative documents.
Source: http://dpsu.gov.ua/ua/news/prikordonniki-lvivskogo-zagonu-zatrimali-bilya-kordonu-z-polshcheyu-marokkancya/