26-07-2017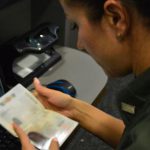 Border guards of Separate Check Point "Kyiv" found passport document belong to a passenger travelled by transit through Ukraine.
The woman with someone's passport was stopped for control in the Boryspil Airport. Performing passport control the border inspector doubted in this document belonging to its representative. As it was established, the citizen of Iran arrived by the flight from Istanbul. Afterwards, the woman intended to get to Rome. She purchased passport of the citizen of Great Britain in Istanbul for her trip. She paid $ 7000 for receiving someone's passport.
Currently, the woman is returned by a back flight to Turkey.
Source:http://dpsu.gov.ua/ua/news/u-borispoli-prikordonniki-viyavili-u-gromadyanki-iranu-pasport-velikobritanii/