06-08-2017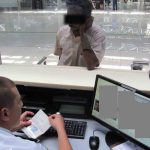 In the frames of join preventive operation "Migrant" the staff of State Border Guard Service, National Police and representatives of State Migration Service revealed 4 foreigners, who violated the stay rule in Ukraine.
In a result of joint action, there were 2 citizens of Azerbaijan revealed in the town of Zhytomyr as to which protocols were prepared in accordance with the Article 203 of Administrative Infringement Code (Violation of stay rules in Ukraine by the foreigners and transit pass through the territory of Ukraine), and their cases were forwarded to the court.
In  Vinnytsya under the same violation 2 citizens of Angola were detained. The staff of SMS of Ukraine draw up protocols as to the Article 203 of Administrative Infringement Code and decision was made on their compulsory return from the territory of Ukraine.
Besides, the border guards of Odessa Detachment in the check point "Odessa-air" did not pass to Ukraine 13 citizens of India. The foreigners arrived by the flight "Dubai – Odessa", however during the border control they could not confirm the goal of their trip to the country. Currently, the foreigners, as potential migrants, will be returned by a back flight.
It is worth mentioning that in the course of six month 2017 the staff of SBGS did not pass almost 2000 potential illegal migrants to Ukraine.
Source:http://dpsu.gov.ua/ua/news/prikordonniki-viyavili-4-inozemciv-za-porushennya-pravil-perebuvannya-ta-ne-propustili-13-potenciynih-nelegalnih-migrantiv-z-indii/