17-08-2017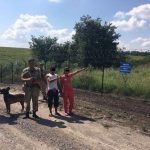 In the frames of joint operation "Migrant" the border guards together with the staff of Human Traffic Organized Crime Department detained 3 violators of the state border with a child due to the preliminary information received from operative department.
Thus, the border detail of BD "Vovchansk", Kharkiv Detachment in the direction of populated areas Krasne (RF) and Okhrimivka (Ukraine) detained 20-year-old Ukrainian and the citizens of Russian Federation aged 32 with a minor. Detainees were delivered to Border Department to establish all circumstances of the infringement, namely to perform filtration measures and draw up appropriate procedural documents. During the interview it was established that Ukrainian attempted to Smuggle the Russian beyond the check point as the man was prohibited to enter Ukraine.
Notification on criminal offence committed by the Ukrainian according to the Article 332 of Crime Code of Ukraine has already been sent to the competent bodies. Materials as to Article 204-1 of Code of Ukraine were prepared as to the Russian. The further destiny of the Russian will be decided by the court.
Also, two persons without documents introduced as Moldovians were detained in the area of BD "Dergachi" in the direction of the populated areas "Zhuravlivka" (the RF) and Tokarivka (Ukraine) due to the engineer-technical equipment of the state border. They intended to cross the state border of Ukraine beyond the check point.
The travellers were also called to administrative responsibility as to Article 204-1 of Code of Ukraine about administrative infringement. Their further destiny will be decided by the court.
Besides, the Lviv border guards apprehended two trespassers walking to Poland on foot.
The staff of BD "Shegeni" prevented illegal border crossing in two cases by the citizens of Ukraine and Ghana. Thus, the district inspector of Border Guard service received information from the local residents about appearance of unknown persons in the village and his further trip to the border. Soon, the border guards found the above mentioned man being without any documents. The citizen explained that he made his way to Poland aiming to get some job.
The border guards of the same department apprehended new seeker of better destiny. Later on, the residents called to the district inspector reporting about an African seen in the village.  This time, it was the citizen of Ghana being stopped close to the village Zolotyi Bereg. The man also did not have any documents and travelled to Europe.
In both cases, the citizens were detained in administrative order; they will answer before the court for their attempt to cross illegally the state border.
Source:http://dpsu.gov.ua/ua/news/na-harkivshchini-ta-lvivshchini-prikordonniki-zatrimali-7-porushnikiv-kordonu/