12-09-2017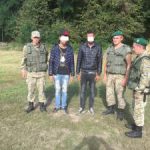 Three illegal migrants were detained in Lviv region by the border guards of Mostytskyi Detachment.
Local residents reported about the appearance of two unknown persons in the suburb of the village Kohanivka, who were moving towards the border. The border detail of Krakivets Department detained two men 1.5 kilometers before the border line. They were Moroccan citizens. Administrative protocols were drafted as for these persons; the cases were directed to the court. So far, the detainees are held art Temporary Detention Facility.
Another person, a citizen of Iraq, was detained by border guards of the same detachment in the evening on the suburb of the village Krakovets. The border guards stopped him 500 meters before the Ukrainian-Polish border. The administrative materials were also prepared as for this person; the case was forwarded to court. It is worth noting that these persons fall under the signs of offenses provided by the Articles of the Administrative Infringement Code of Ukraine Art. 204-1 "Illegal cross or attempt to cross illegally the state border of Ukraine". It should be added that crossing or attempt to cross the state border of Ukraine in any way beyond the check points of the state border of Ukraine without the relevant documents or documents containing unreliable information about the person, or without the permission of the relevant authorities, – entail a fine imposition in the amount of a hundred to two hundred non-taxable minimum incomes, or administrative arrest for up to 15 days.
Source:http://dpsu.gov.ua/ua/news/prikordonniki-zatrimali-na-lvivshchini-dvoh-nelegaliv-iz-marokko-ta-odnogo-z-iraku/