30-10-2017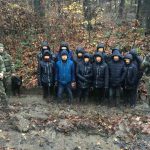 Twelve illegal migrants were detained in Transcarpathia, who planned to get to Europe beyond the border. The violators were revealed by the border detail composed of the cadets of National Academy of SBGS, who arrived for strengthening purposes to the Chop Border Detachment in the frames of joint special border operation "Border-2017". Moving towards the place of service performance, the border guards noticed a group of persons nearby the border, who got through the woods in the direction of Slovakia. Reaction group of BD "Novoselytsya" started to the place and detained the violators. The foreigners, among which there were 7 men and 4 women, did not have any documents; however, they introduced to be the citizens of Vietnam.
Subsequently, the border guard revealed another Vietnamese citizen hiding from the  law enforcemers nearby. Currently, the searches go on directed upon the identification of potential guides and other illegal immigrants.
The identified offenders were taken to the BD "Novoselytsya". Upon clarifying all the circumstances and establishing their personalities they will be brought to administrative responsibility under Art. 204-1 (Illegal cross or attempt to cross illegally the state border of Ukraine).
Source:http://dpsu.gov.ua/ua/news/na-zakarpatti-kursanti-akademii-derzhprikordonsluzhbi-zatrimali-12-vtnamciv/