31-10-2017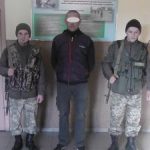 Due to timely received information from the residents of border area the officers of Chop Detachment detained two violators nearby the state line. First, they received information about unknown person moving towards to the border near BD "Uzhhorod". Reaction group started to the place to look for the violator, who was apprehended immediately upon his overcoming the barrage fence. Detainee was the citizen of Belarus. Justifying own actions he explained that he had seemed to be lost, although he tried to escape during his detention. The foreigner is brought to administrative liability for the committed offense and will be forcibly returned to the territory of Belarus.
Soon the district inspector of BD "Tysa" received another message about another possible attempt to break the border. Border detail went to the mentioned locality and unknown person was apprehended 500 meters before the border. The man who introduced himself as a citizen of Ukraine initially argued that he was a resident of the border village Solomonov. When the law-enforcers offered him to indicate the address of his residence and go there to take documents, he admitted that he had deceived the border guards and had no documents.
The detainee was taken to Chop Temporary Detention Facility. After person's identification the offender will be brought to administrative responsibility.
Source:http://dpsu.gov.ua/ua/news/na-zakarpatti-prikordonniki-razom-z-miscevimi-zhitelyami-zatrimali-dvoh-porushnikiv/