23-11-2017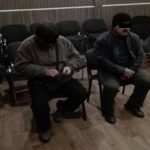 Border guards together with the interactive bodies in the frames of the operation "Migrant" continue detect foreigners and stateless persons illegally staying in Ukraine, and counteract to organized criminality, illegal migration and human trafficking.
Thus, during the operative actions the staff of Azov-Chornomorskyi Regional Department together with the representatives of SMS, SSU and National Police in Zaporizhya region detected 7 foreigners exceeding the stay terms within Ukraine specified by the legislation. There were two citizens of Azerbaijan, two persons from Syria and one citizen of Tunis as well as from Russia and Brazil among the violators.
Appropriate administrative materials were drawn up with regard to all detainees. Currently, the staff of SMS makes corresponding decisions as to foreigners' expel from Ukraine.
Besides, two citizens of Ukraine were called to administrative responsibility, which illegally employed two foreigners and provided them with dwelling. The Ukrainians are impended with administrative responsibility and fine in the amount of more than 3000 UAH.
Source:http://dpsu.gov.ua/ua/news/u-zaporizkiy-oblasti-v-ramkah-profilaktichnih-zahodiv-migrant-viyavleno-7-inozemciv/