24-11-2017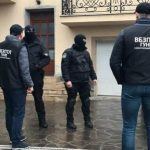 Despite the increased illegal activities in the Transcarpathian region, the State Border Guard Service, together with interacting authorities make every effort to combat such manifestations.
In particular, the Operational Investigative Subdepartments of the Western Regional Department of SBGS together with the staff of the Department for Fight against Crimes connected with Human Trafficking of the National Police conducted a special operation on combating illegal trafficking of persons across the state border.
Thus, in the framework of criminal proceedings on the organization of persons' illegal transportation through the border of Ukraine, the border guards together with the Police conducted searches in the private apartments of the residents of Uzhhorod district, Perechyn and Uzhhorod town.
It will be recalled that in late October, the border patrol, composed of students of the National Academy of SBGS, arrived for reinforcement purposes in Transcarpathia, in a result 12 citizens of Vietnam were detained. Illegal migrants got through the woods in the direction of Slovakia.
By results of the applied measures the law enforcers found and confiscated mobile phones, SIM cards to them, money and other things that could be used as evidences in the criminal proceedings. Four vehicles were additionally seized and delivered to the fine site in the Transcarpathian region.
Currently, two defendants in criminal proceedings are declared suspicion in the criminal offense commitment under the Part 2 Article 332 of the Crime Code of Ukraine (illegal transportation of persons through the state border of Ukraine, management by these actions or facilitating their commitment by advice, instructions, provision of means or removal of obstacles, made on the preliminary arrangement by group of persons). The sanction of article provides for a punishment in the form of imprisonment for the term from three to seven years with confiscation of instruments of crime.
In addition, a preventive measure shall be selected as for the violators. The investigative actions on this case are continued.
Source:http://dpsu.gov.ua/ua/news/na-zakarpatti-prikordonniki-spilno-z-policiyu-vikrili-organizovanu-grupu-yaka-zaymalas-perepravlennyam-nezakonnih-migrantiv/