27-11-2017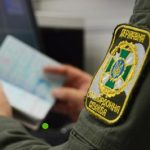 The staff of SBGS revealed two foreigners having forged document and someone's passport.
The border guards of Separate checkpoint "Kyiv" during the registration of the passengers from the flight "Larnaca – Kiev" at the international airport Boryspil exposed a foreigner with forged documents. During the verification process the persons presented the Spanish ID-card, however, he was the citizen of Pakistan.  Currently, the offender is returned by a back flight.
And at the checkpoint "Krakovets" the border guards of Mostyskyi Detachment exposed the citizen of Turkey, who followed by the car "Volkswagen" to Poland with a foreign passport. Now, the offender is kept in the Temporary Detention Facility for his identification.
Source:http://dpsu.gov.ua/ua/news/pakistancya-ta-turka-viyavili-na-kordoni-z-pidroblenimi-dokumentami/