29-11-2017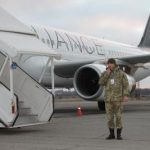 The border guards of Berdyansk Detachment continue to detected persons attempting to get to the territory of Ukraine by invalid documents.
The citizen of Tunis arrived to the international airport Zaporizhya in the evening. Undergoing the border control the foreigner presented his foreign passport and certificate for permanent residence in Ukraine. However, upon checking his documents the militaries established that this certificate contained the signs of forgery and was invalid. In this regard, the foreigner was not admitted to the territory of Ukraine and was banned to visit our country for three years.
The offender will be returned by a back flight.
Source:http://dpsu.gov.ua/ua/news/u-gromadyanina-tunisu-prikordonniki-viyavili-pidrobleni-dokumenti/