30-11-2017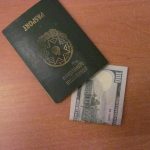 The staff of SBGS recorded four cases of offering bribes at the checkpoints on the border.
Thus, the border guards Mostyskyi Detachment documented two attempts of undue remuneration in the amount of $100 and $ 50 at the checkpoint "Krakovets".  The citizens of Turkey and Germany in such a way intended to solve the issue of unobstructed crossing of the state border.
And in the check point "Boryspil" in the course of border control actions, the law enforcers of the Separate checkpoint "Kyiv" refused the citizen of Azerbaijan to cross the border. The foreigner tried to bribe the border guards and offered them a monetary reward in the amount of 1,000 hryvnia.
It will be noted that for the criminal offense commitment under Part 1 Article 369 of the Crime Code of Ukraine (Offer, promise or granting illegal benefit to the official person) a person is punished by a fine from five hundred to seven hundred fifty untaxed minimal incomes of the citizens or freedom restriction for a period of two to four years, or imprisonment for the same term.
Source:http://dpsu.gov.ua/ua/news/sumi-habariv-zrostayut-proporciyno-nepidkupnosti-prikordonnikiv/