02-12-2017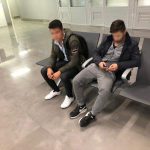 The border guards of Odessa Detachment found forged documents belonging to three citizens of Turkey in the check point "Odessa-air".
The border guards established that the foreigners using forged visa labels of Germany, purchased for 5 000 euro, intended to get illegally through Ukraine to Berlin. However, they were revealed by the Ukrainian border guards.
The violators were rejected in crossing the state border and banned to enter Ukraine for the period of three years.
Source:http://dpsu.gov.ua/ua/news/v-aeroportu-odesi-prikordonniki-viyavili-pidrobleni-nimecki-vizi-u-dvoh-inozemciv/