18-12-2017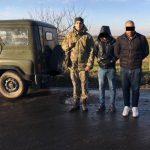 Two illegal migrants, who intended to cross the border on Romania in illegal way, was apprehended  yesterday by the border guards of BD "Dyula", Mukachevo Detachment.
Receiving information from a local resident about the emergence of two unknown persons of non-Slavic appearance in the borderland, the border guards immediately organized the searching activities. As a result, soon the soldiers detained two men without documents on the highway "Klynove-Dyula". The detainees reported that they were the citizens of Palestine and intended to enter Romania illegally.
In order to draw up administrative protocols and perform filtration actions as to the foreigners, they were delivered to the Border Guard Service Department of "Dyula". The actions on establishments of persons circle, who were involved in the organization of illegal migrants' trip are still continued.
The further destiny of the travelers and assessment of their actions will be determined by the court.
Source:http://dpsu.gov.ua/ua/news/Bilya-kordonu-z-Rumuniyu-prikordonniki-zatrimali-dvoh-palestinciv/