30-01-2018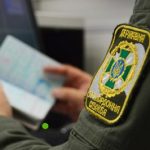 The border guards of Separate checkpoint "Kyiv" detected three foreigners with forged documents and wanted by Interpol.
The staff of the Border Department exposed the citizen of Ghana at the time of registration of passengers of flight "Kiev-Bergamo" in the international airport "Boryspil", who provided someone's passport for control belonging to a citizen of Italy. In the course of circumstance clarification the law enforcement officers found the Italian, a native of Ghana, on the specified flight. It was she passing the passport to the detainee, which belonged to a third party.
The protocol was drawn up as to the man according to Article 204-1 of the AICU (Illegal cross or attempt of illegal cross of the state border of Ukraine), in respect of a foreigner-woman a message was sent about signs of a criminal offense detection under the Article 332 CCU (Illegal transportation of persons through the state border of Ukraine). The foreigners were handed to the staff of National Police.
In the airport "Zhulyany" during verification of documents of the passengers for the flight "Ankara-Kiev" the staff of SBGS exposed a Turkish citizen, who was wanted by Interpol for rape and citizen of Turkmenistan having fake residence permit in Ukraine, which he bought for 18 thousand UAH. Information about Turkish offender was sent to Ukrainian Bureau of Interpol in Kyiv.
Source: https://dpsu.gov.ua/ua/news/troh-inozemnih-porushnikiv-viyavili-prikordonniki-v-stolichnih-aeroportah-/