02-02-2018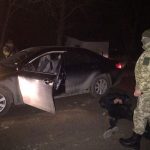 The law enforcement officers have prevented the trafficking of illegal migrants from Turkey and arrested two people involved in the attempt to move them across the state border on the Ukrainian-Polish border.
The border guards of BD "Shehyni", Mostytskyi Border Detachment together with the staff of Security Service of Ukraine in Lviv region prevented the illegal crossing of the state border of Ukraine by two citizens of Turkey.
Information about seekers of better life was received by the border guards from the security personnel, correspondingly the border protection was strengthened and the services of additional reserves were involved. Two persons, Turkish citizens, were detained 500 meters before the border on Poland, but after a while the group of power support of the border guards' operational-investigative units stopped the car with two of their traffickers.
The Turkish citizens were detained in administrative order; the decision on the case concerning attempts of illegal border crossing will be made by the court. So far, the operative and investigation actions are performed as to the persons involved in attempting to smuggle, a circle of persons probably involved in this crime.
Source: https://dpsu.gov.ua/ua/news/na-kordoni-z-polshcheyu-zatrimali-nelegaliv-iz-turechchini-ta-ih-perepravnikiv/