01-03-2018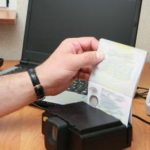 An illegal migrant, a citizen of Tunisia, was arrested yesterday by the border guards of Mostyskyi Detachment 150 meters before the state border. The offender, intending to get illegally to Poland, was managed to be found in a result of obtained information from a local resident. The foreigner had a foreign passport; however, he made his way beyond the checkpoints.
Currently, the detainee is taken to the Border Guard Service Department. The Protocol was drawn up under the Article 204-1 of AICU. The case is forwarded to court.
In addition, the border guards of Separate checkpoint "Kyiv" detained at the airport "Boryspil" the undocumented citizen of Eritrea and citizens of India with false Ukrainian residence permit during the passengers' registration from two flights that arrived from Dubai.
Both foreigners were returned by back flights.
Source:https://dpsu.gov.ua/ua/news/gromadyan-tunisu-eritrei-ta-indii-zatrimali-bilya-kordonu-ta-v-punktah-propusku/