04-03-2018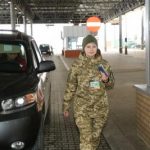 Two Turkish citizens, trying to cross illegally the border at checkpoints, were revealed by the staff of State Border Guard Service in Lviv region.
Thus, the border guards of Lviv Detachment at the checkpoint "Rava-Ruska" detected a citizen of Turkey in the regular bus "Chernivtsi – Hodynya(RP)", who provided the false ID card of the citizen of Bulgaria for verification. The man had also his passport of the citizen of Turkey by which he arrived to Ukraine.
And the border guards of Mostyskyi Detachment detected a man who claimed to be a citizen of Turkey, but had not any documents during the border control at the checkpoint "Mostyska – railway station".
He planned to slip through the border in the corridor of the train "Lviv – Wroclaw". Therefore, the offenders going to travel from Ukraine to Poland, were taken off the bus and the train by the border guards. Upon drawing up appropriate documents, one of them was handed over to the Police, the other is kept in Temporary Detention Facility until his identification.
Source:https://dpsu.gov.ua/ua/news/na-lvivshchini-prikordonniki-zsadili-z-reysovogo-avtobusa-ta-poizda-dvoh-gromadyan-turechchini/