05-03-2018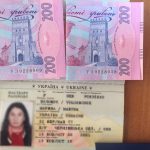 The traveler attempting to cross the border twice in the checkpoint "Shehyni" at the border on Poland, was not passed by the border guards Mostyskyi Detachment.
The citizen of Ukraine, born in 1977, provided a Ukrainian passport for control, which last page was partially destroyed. In order the border guard paid no attention to the invalid document, the woman put 400 UAH to it. The border guard did not fall for it, thus, the citizen had also to communicate on the border with the Police as well.
However, the traveler arrived to this checkpoint soon and provided the passport of the Belgium citizen being issued for her constituent data. This idea of the Ukrainian was disclosed by the border guards immediately, who then drew up the Protocol for attempt of illegal cross of the state border of Ukraine.
Source: https://dpsu.gov.ua/ua/news/podorozh-ukrainki-do-krain-s-ne-vdalasya-ni-za-habar-ni-bez-habara/