10-03-2018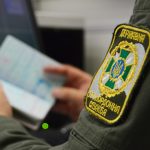 SBGS staff revealed a citizen of Ghana at the railway crossing point "Chop", who tried to cross the border from Ukraine by Austrian ID card. The woman was traveling to Austria by train "Kyiv – Vienna".
During the check of the documents, she presented for control an ID-card instead of the foreign passport, as it turned out it was issued to another person. This was the basis for not passing the "traveler" abroad and bringing her to administrative responsibility for illegal crossing or attempt to cross illegal the state border of Ukraine. In addition, in the course of further verification, the guards found other documents, including the passport of the citizen of the Republic of Ghana, the Ukrainian residence permit and student ticket of one of the universities of the Sumy region. Currently, the law enforcement agents have been establishing, where 27-year-old woman got a strange document and who helped her in the illegal voyage. Except the administrative penalty, the violator will have to answer for the criminal offense under the Part 3 Article 357 of the Crime Code of Ukraine "theft, misappropriation, extortion of documents, stamps, seals, gaining possession of them by fraud or abuse of official position or their faulting".
One more foreigner was detained at the airport in Zaporizhzhya. The offender was a citizen of Russia. During the verification, a fake ID for permanent residence in Ukraine was found in his stuff. Currently, a decision has made as to the man to ban his entry into the territory of Ukraine for the period of 3 years and he was brought to administrative responsibility.
Source: https://dpsu.gov.ua/ua/news/na-kordoni-zatrimali-afrikanku-z-chuzhim-avstriyskim-dokumentom-ta-rosiyanina-z-pidroblenoyu-posvidkoyu/