12-03-2018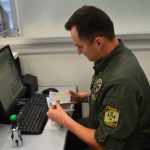 The citizen of Nigeria traveling to Ukraine tried to bribe the border guards of Separate checkpoint "Kyiv" in the airport "Boryspil".
A young man, born in 1996, arrived from Istanbul, tried to influence upon a positive decision regarding his pass to the territory of Ukraine by giving an unlawful remuneration in the amount of $ 500.
The border guard replied with a categorical refusal. The foreigner is prohibited to enter the territory of Ukraine for the period of 3 years; later on he was returned by a back flight.
The staff of National Police was informed about bribe offer.
Source:https://dpsu.gov.ua/ua/news/u-borispoli-gromadyanin-nigerii-namagavsya-pidkupiti-prikordonnikiv-500-dolarami-ssha/