13-03-2018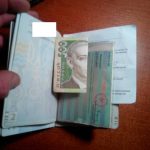 Last night, the border guards of Mukachevo Detachment recorded an attempt of giving unlawful remuneration at the checkpoint "Dyakove" at the border on Romania.
19-year-old citizen of Ukraine attempted to draw border guards into unlawful activities. The girl traveled from Romania to Ukraine and had duly executed documents for crossing the border by car she arrived to the checkpoint. The Ukrainian woman tried to give unlawful remuneration in the amount of 500 UAH to solve the issue on her crossings through the border . The border guards categorically refused, and in fact of bribe offer was reported to the staff of the National Police.
The border guards of Kharkiv detachment during passengers registration of the flight "Istanbul-Kharkiv" in the checkpoint "Kharkiv-air" has discovered a fake ID owned by one of the passengers. A citizen of Uzbekistan, traveling to Ukraine, provided his passport, in which the inspector of the Border Guard Service found a fake date-stamps about the border cross. Realizing that he was exposed, the foreigner offered the inspector a cash compensation in the amount of $ 50 for free admission across the state border.
However, such a proposal was rejected by the border guard and issuing the relevant documents the foreigner was handed over to the Police for further legal decisions.
Source: https://dpsu.gov.ua/ua/news/19-richna-ukrainka-ta-gromadyanin-uzbekistanu-namagalisya-peretnuti-kordon-za-habari/