16-12-2018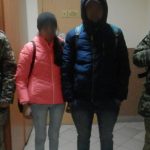 According to a local resident's information, the border guards of the Lviv Detachment a foreigner intended to illegally cross the state border outside the checkpoint. The man was unable to show identity documents. However, according to the latter, he was a citizen of Morocco.
Currently, the foreigner is in the Border Guards Service Department "Rava-Russian" to establish all the circumstances of the offense.
In addition, the soldiers of the same detachment exposed two illegal migrants. In the minibus " Mercedes "which followed to Poland through the check point "Ustyluh", there were two passengers without documents. A man and a woman reported to be the citizens of India.
As to the driver of the vehicle, the citizen of Ukraine, and foreigners the protocols were drawn up on signs detection of administrative offences under the Article 202 and Article 204-1 part  2, respectively.
Source: https://dpsu.gov.ua/ua/news/nelegalnih-migrantiv-z-marokko-ta-indii-viyavili-prikordonniki-minuloi-dobi/