20-12-2018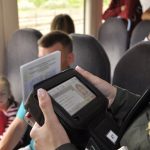 The  inspector's attention was attracted by the passport of one of the travelers at the checkpoint " Mostyska "during the registration of passengers of the train" Lviv-Wroclaw". The man submitted for control a passport document of a stateless person, issued in Italy.
During the inspection, the border guards found that the passport was partially fake, in particular, a photo of the owner on the information page was replaced. During the further check the border guards found out that the bearer of the document actually was the citizen of Turkey. The man admitted that the day before he arrived to Lviv legally and showed a photo of the driver's license on the smartphone. During the further database scan the words of the alien confirmed. The border guards did not let the 35-year-old traveler across the border. In his actions, due to the use of the forged document, the signs of the criminal offense were detected provided by the Article 358 of CCU, which was informed by the representatives of the National Police of Ukraine.
The decision in the case on attempt to cross illegally the state border of Ukraine (committed by a group of persons) will be taken by the court.
Source: https://dpsu.gov.ua/ua/news/na-kordoni-z-polshcheyu-zatrimali-inozemcya-z-pidroblenim-pasportom/