14-06-2018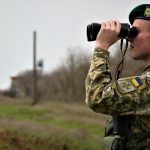 The Azerbaijani citizen, who tried twice to cross the state border in one day, was detained by the border guards of the Chernihiv Detachment.
The violator was noticed by a district inspector of Border Guard Service in the direction of Ukrainian-Russian border. The man had no any documents and introduced himself to be the citizen of Azerbaijan.
Subsequently it was established that this citizen exceeded the term of his stay in Ukraine. In the morning of the same day he was not allowed to cross the border at the checkpoint "Novi Yarylovychi".
The Protocols on violation of the state border and border regime were drawn up as to the offender. Currently, the foreigner is kept in the Temporary Detention Facility. Filtration measures are continued.
Source: https://dpsu.gov.ua/ua/news/azerbaydzhanec-protyagom-dnya-dvichi-namagavsya-nezakonno-potrapiti-v-ukrainu/