14-06-2018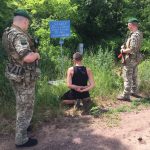 The border guards of Podil Detachment in the area of BD "Pavlivka" detained the citizen of Moldova few meters from the state border.  The citizen of the neighboring country tried to cross illegally the border beyond checkpoint.
The operative staff of the Southern Regional department received information about possible border passing in the area of BD "Pavlivka". The border guards immediately send the detail in the direction of possible motion of the trespasser and apprehended him.
Later on, the Joint Inter-Agency Group consisting of the border guards, operational staff of the Southern Regional Department, the employees National Police of Ukraine in Odessa region under the procedural leadership of the Rozdilyansk Municpal Prosecutor's office in the frames procedural actions the car "VAZ-2101" driven by the Ukrainian was stopped, who may have been used for the delivery of the trespasser.
Investigative actions are continued.
Source: https://dpsu.gov.ua/ua/news/na-odeshchini-prikordonniki-zatrimali-gromadyanina-moldovi-yakiy-namagavsya-porushiti-kordon-/