09-06-2018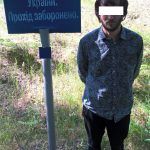 The Azerbaijani citizen, who tried to bypass the checkpoint "Maidan-Kopyschansky" to enter the territory of the Republic of Belarus, was detained last night by the border guards of the Zhytomyr Detachment.
So, after procession the information received from the operational divisions of the Northern Regional Department, the border guards of BD "Kopysche" found a man, who, overcoming obstacles and ignoring the information signs, was traveling in the direction of the state border. The border detail immediately took measures to detain this person.
The offender was 29-year-old citizen of Azerbaijan.
In the course of further investigation it was determined that the foreigner had recently come to the territory of Ukraine and intended to get by transit to the territory of Belarus. However, the staff of the BGS of the neighboring country refused him in entry and returned to Ukraine.
During his return the foreigner has been granted the right to pass through the territory of Ukraine to Azerbaijan by transit within 72 hours, but Azerbaijani has ignored this requirement. Exceeding the period of his stay on the territory of the country, the foreigner has repeatedly decided to go to Belarus, but this time in illegal way. Arriving to the village by passing transport, the foreigner walk out of the checkpoint trying to cross the border on Belarus, where, a few meters from the state line he was detained by the border guards for trying to violate the state border.
Currently, the procedural documents are prepared as to the offender for his violation of the Articles 204-1 (Illegal cross or attempt to cross illegally the state border of Ukraine) and 203 (Violation of the stay rules in Ukraine and transit pass through the Ukrainian territory by the foreigners or stateless persons) of the Administrative Infringement Code of Ukraine.  Also the border guards made decision on the foereigner's ban to enter the territory of Ukraine for the period of 3 years.
Source: https://dpsu.gov.ua/ua/news/bilya-ukrainsko-biloruskogo-kordonu-prikordonniki-pripinili-mandri-gromadyanina-azerbaydzhanu/