22-08-2018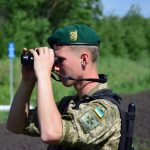 In order counteract illegal migration and violation of the stay rules by the foreigners within the territory of Ukraine a complex of practical events are planned in some regions of the country. Joint servicing of the border guards together with other interacting agencies are organized in the areas of possible unlawful actions.
The previous day, the agents of the Border Department together with the staff of Mohyliv-Podilks, Ismail, Kherson, Mostysk Detachments and representatives of National Police and State Mgration Service detained 7 foreigners in the frames of above mentioned preventive measures.
These were – the citizen of Jordan and frou persons from Azerbaijan, who violated the stay term on the territory of Ukraine, the citizen of Armenian, who had forged stamps on border cross, and the citizen of Cameroon having no any documents. The appropriate materials were drawn up as to the violators under the Ukrainian legislation in force.
In total, since the beginning of the operation "Migrant" the staff of SBGSU prepared more than 1240 protocols only for the foreigners' offence and stateless persons violating the stay rules in Ukraine and transit trip through the territory of Ukraine. in addition, the violators of the Ukrainian legislation were fined for the sum of 11.1 mln UAH.
Source:https://dpsu.gov.ua/ua/news/semero-porushnikiv-inozemciv-prikordonniki-razom-iz-vzamodiyuchimi-organami-zatrimali-protyagom-dobi-/