13-08-2018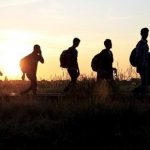 One more group of illegal migrants from Vietnam was detained nearby the border on Russia by the border guards of Kharkiv Detachment togather with the agents of the Eastern Regional Department of State Border Guard Service.
The day before, the agents received information about possible illegal cross of the state border by the migrants from South-Eastern Asia. During the verification of the road leading from Belgorod (Russia) to Kharkiv, the police detained 5 citizens of Vietnam being 1982, 1983, 1990,1992,1993 years of birth. According to the words of the detainees after their illegal entry to the territory of Ukraine, they planned to get into the countries of the European Union.
So far, verification action continue and details of the offence are established.
Source: https://dpsu.gov.ua/ua/news/pyatoh-nelegaliv-iz-vtnamu-prikordonniki-zatrimali-bilya-kordonu-z-rosiyu/